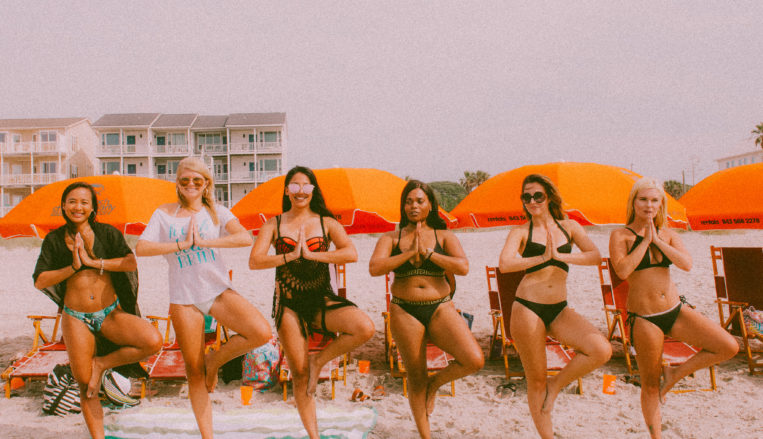 Are you looking to throw a last single's party that is both memorable and affordable? Well, look no further! A beach-themed bachelorette party is one that will surely have you and your girls reminiscing for years to come. To celebrate your last day of singlehood, make use of the luxury of sun, sand, and the timelessness of the sea. With Folly Beach Chair Company's chairs, you can transform any beach space to whatever look suits the theme of your party.
Set sail before the veil
Because marriage is supposed to last for a lifetime, it only makes sense to take your girls out for one last hurrah before the big day. A party on a yacht is a great idea! While planning it, have an open conversation about what you expect and what you are afraid of leaving behind. This yacht or boat sail can even be transformed into an overnight trip! Pack your bags for a trip to remember – truly, the ideas are endless.
Beach art class
A bachelorette party doesn't have to be all about partying. Instead of hitting the clubs all night, consider some more creative endeavors. Try out a beach art class with your best gal pals to make something you'll never forget! And don't worry if you're struggling with creativity – a few sips of a mojito always does the trick.
Early morning yoga
Is anything better than beach yoga at sunrise? Grab your best friends, put on your comfiest yoga gear, and head on to the waterfront for a moment of meditation, poses, and Namaste. After all, there is no better way to combat wedding day jitters than with a channeling of inner peace. You can also transform the weekend into a wellness retreat.
Beach-front tea party
Remember playing dress-up as a child? You can have that fun as an adult, too. Dress up like an old Jane Austen movie, complete with gloves and stockings, and settle down for an afternoon of tea, classy conversation, and biscuits. Nothing beats wedding jitters like a little pretend and the best kind is acting like one of the members of the finer things club!
Try a luau
Sometimes the best way to party is to truly embrace the beach vibe. Let the squad change into their hula skirts and carry their tiki torches. Our team at Folly Beach Chair Company will work on the rest of the decorations, complete with Folly beach chairs, coconuts, and other themed party ideas. All you have to do is show up ready to hula the night away!
Last splash
Instead of a last sail aboard a yacht, your squad can dress up as mermaids and have a last splash in the water before the wedding. Who doesn't love a plunge into the refreshing, peaceful ocean? Drifting and splashing with your best friends is a great time to bond and allows for great one-on-one face time before the knot.
At Folly Beach Chair Company, we are committed to making your beach bachelorette party just as special and memorable as the rest of your wedding. Our top of the line services are available to all visitors at Folly Beach. Contact us today here!