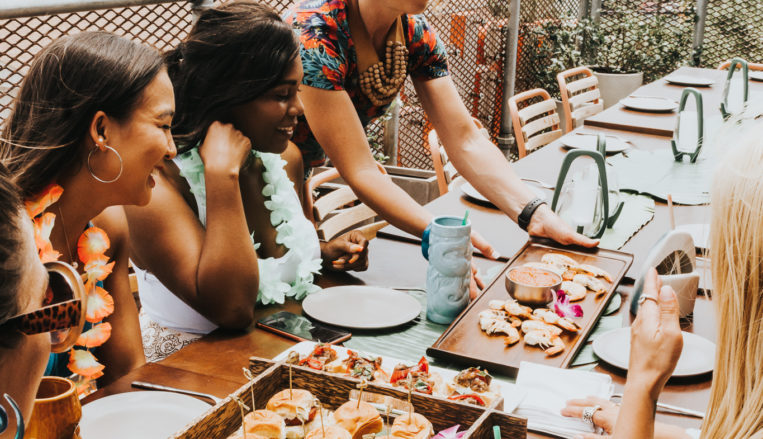 Unveil the Best Beach Party to Your Summer Bride Tribe
A summer beach bachelorette party means tan lines and bride time. Folly Beach Chair wants your summer bride tribe to have a trip to remember, all you have to worry about is getting sun and having fun. We are excited to introduce events at Wiki Wiki Sandbar on Folly Beach! A collaborative spirit – and a warm, inviting energy Wiki Wiki Sandbar brings you to Hawaii with a touch of southern charm. Located just a hop away from the beach, you'll be able to dine luau-style with a great view of the chairs you rent with us on the beach!
Whether you are planning a bachelorette brunch, bridal lunch, evening wedding rehearsal or reception; we have an adaptable space to welcome each occasion and headcount. Wiki Wiki Sandbar serves widely appealing appetizers, family-style meals and food stations inspired by Hawaiian, Polynesian and traditional Southern cuisine. And what is a true beach luau without the Tiki Umbrella Drinks? As Folly Beach Chairs are beach party experts, we have every festive detail covered for you and your girls!
Our first package, the Bachelorette Tiki Lounge Luau, is ideal for the bride who has a tight-knit crew of 8-14. This exclusive beach bar space is yours to dance, dine, and drink in for up to two hours. Folly Beach Chair knows soaking up the sun all morning can work up quite an appetite, so our chef put together some crowd-pleasing options.
This package's special Hoohiwahiwa menu offers one Tiki drink cocktail and souvenir cup and several crave-worthy bites. "The PuPu Platter" has something for every kind of bridesmaid. They can choose from char siu ribs, five-spiced wings, wiki sticks, coconut shrimp, egg rolls, bacon-wrapped pineapple with our custom dipping huli huli sauce, peach coulis, wiki wiki white sauce and Thai chili sauce. If you have a vegan or diet-sensitive bridesmaid, don't worry we have our menu favorite "Edamame Hummus" garnished with cilantro pistou paired with radish, cucumber, sesame seeds, and potato chips. Finally, no true beach party can end without fresh seafood, so we have put together a "Poké Sampler" with Shoyu tuna, spicy salmon, beets, and macadamia nuts.
Our second package, Bachelorette Luau on The Edge, takes your bridal party one step further if you have a bash between 15 and 25. Our exclusive beach bar space is yours to live up the last girl fling before the ring for up to two hours between 11 A.M. and 3 P.M. You'll have all-inclusive access to the Tiki Lounge Patio which is perfect for dancing, dining, oceanfront photo-ops, sunbathing, or enjoying specialty Tiki Cocktails in unique Hawaiian-themed souvenir cups. If you're worried about rain, we have our Sunset Room or Tiki Bar – so that way nothing can keep you from enjoying your beach bash. The Luau on The Edge Menu offers the same menu as package one with the additional fan favorite of crispy fried calamari with bacon lardons, pineapple aioli, farmer fresh arugula, and green tomatoes.
Every bachelorette party wants paradise delivered on a platter, which is why Folly Beach Chair and Wiki Wiki Sandbar have partnered to make it happen! We'll make sure your weekend getaway makes one last splash before your big day. Our exclusive packages are made just for your party and can be combined with any of our other rentals including beach chairs and umbrellas, so you can end your beach day the right way without anyone interrupting your quality girl time.