Careers
Our Passion
Working at the Folly Beach Chair Company
The Folly Beach Chair Company was started in 2008 by Mike and Wendy Ezelle. We were established with the intent of being a responsible corporate citizen and helpful, nurturing member of the Folly Beach community. At our core we strive to operate in a manner that lifts up and serves the community we are a part of.
A lot has happened since our beginnings. We started with a few umbrellas and a dream. Now, we proudly offer delivery for resort quality beach chairs and umbrellas, beach gear, and wedding services!
Wha does an average work day look like?
For our daily crew work, we rise early in the morning to deliver and set up our beach chairs and umbrellas for visitors staying at our main location by the pier and to vacationers around the island. At the end of the day we collect the equipment, clean, and store them away for the next day. At our Pier Location and at our office, we strive to provide unparalleled customer service to all beach goers!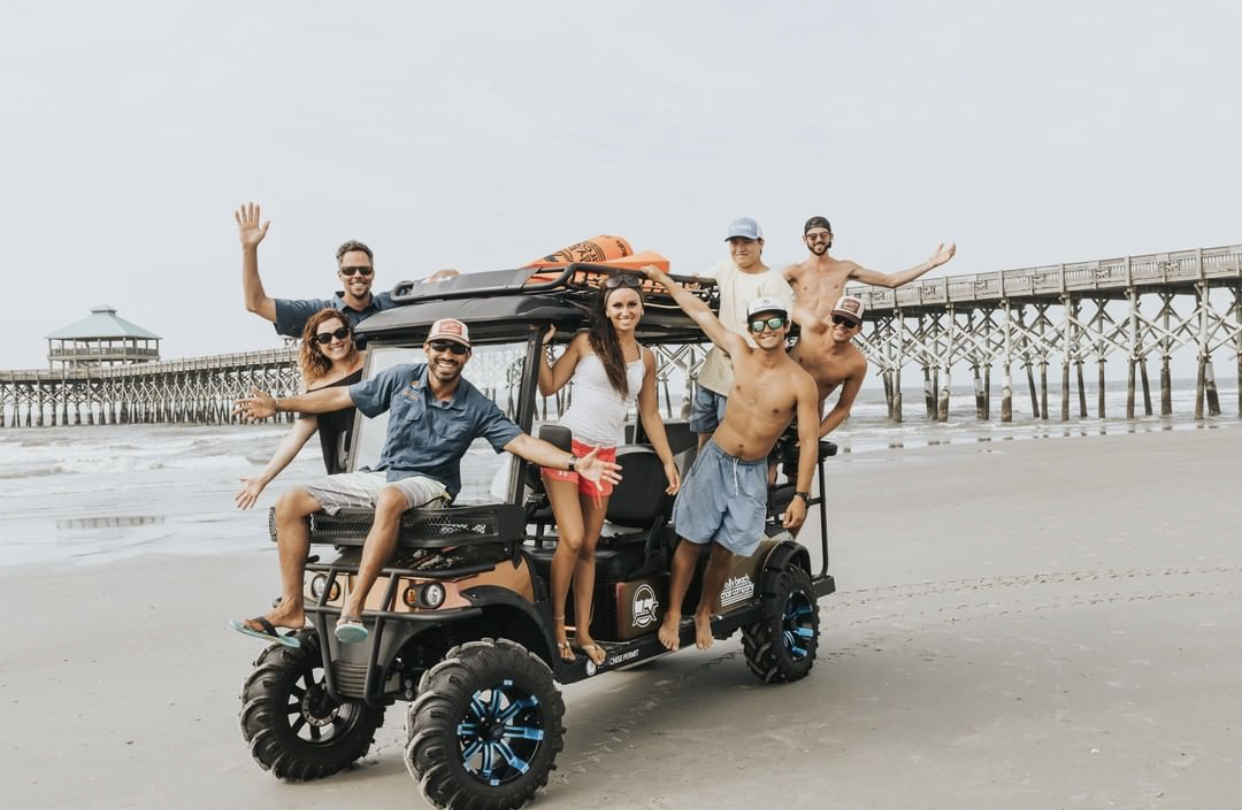 Jobs Available
Beach Service Crew Chief (Year Round)
This is a year-round, salaried position. This is not a position for a college student or office staff. Our Beach Service Crew Chiefs will be leading by example and working with our crew out on the beach! As the Beach Service Crew Chief you will be in charge of operations on and off the beach. You will be in charge of overseeing the team and making sure all daily tasks get completed as well as regular customer interactions and conducting sales.
Apply if you:
1. Have leadership experience
2. Are a people person
3. Are task and goal oriented
4. Have an entrepreneurial mindset. (Creation and maintenance of new revenues and ideas)
5. Are physically capable of working in typical Lowcountry heat and humid weather conditions. You may be working 12+ hour days outside, in the heat.
6. Are a morning person
7. Are a healthy and a zest-for-life person
8. Have reliable transportation
9. Live close to Folly Beach
10. Can lift 65 lbs+
11. Have knowledge and skills with general tools for performing various maintenance tasks to include bike repairs.
12. Are familiar with and comfortable driving a large trailer.
Learn more and apply here!
---
Seasonal Beachfront Crew Member
We offer visitors the very best in customer service as the premier provider of resort quality beach chair and umbrella rentals, as well as other beach gear on the island. We work hard. We have a lot of fun! We only hire the friendliest, hardest working, fun-loving people pleasers.
Apply if:
You are available until early November (preferable)
You are physically capable of working outside in typical Lowcountry heat and humid weather conditions
You are a morning person
You are healthy and a zest-for-life person
You have reliable transportation
You live close to Folly Beach
You can lift 50lbs+
Learn more and apply here!