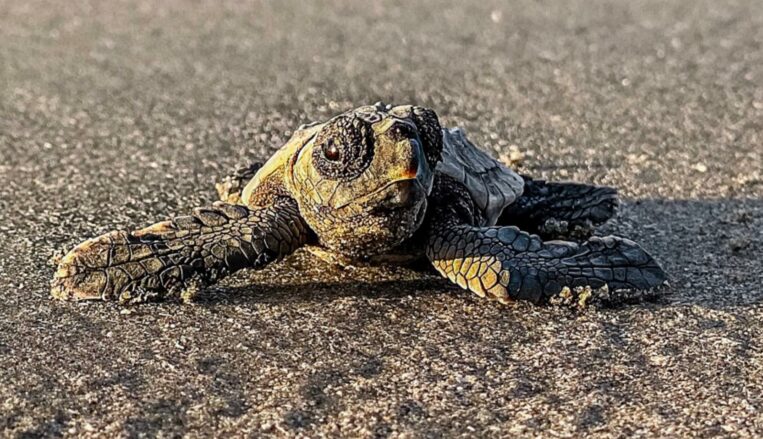 Summer is in full swing and the beach season is heating up! Thousands of people come to Folly Beach for their summer vacations each year. People aren't the only ones visiting our beaches this summer…
The sea turtles are back!
May through October is sea turtle nesting season! It is important to understand the precautions that we need to take to keep these endangered animals safe. Folly Beach is one of the many beaches that the female sea turtles arrive at to lay their eggs. Last year there were reports of over 100 sea turtle nests on Folly Beach! 
Nesting
When the female sea turtles arrive to the beach it is important to leave them alone if you spot them. This is not to disturb her from laying her eggs. The nests are identifiable by the tracks that the mother leaves behind or disturbed sand/vegetation. The best way to identify them however is to see the turtle laying the eggs. The nests' survival is based on camouflage and the mother is very good at hiding her eggs.  The Folly Beach Turtle Watch team are great at spotting these nests and are always on watch! They move the nests in high trafficked areas to safer locations. They also section off and maintain the nests until they hatch.
Report any instances to Folly Beach Public Safety at (843) 588-2433.
Hatching
The egg hatching starts at the beginning of July. At night, make sure lights on the beach are off. Hatching turtles are instinctively attracted to the first light they see–the moon. We do not want to disturb and confuse them! When you leave the beach, make sure to remove all your beach gear or any litter, fill in any holes, and knock down any tall piles of sand. This ensures the turtles have a clear and safe path to the ocean!
Report any instances to Folly Beach Public Safety at (843) 588-2433.
Our team is committed to the upkeep of our ecosystem. We are dedicated to making sure that our home continues to be a safe place for these creatures. Sea turtle nesting season is not the only time that we need to keep our beaches safe for our wildlife. This is a year-round effort!
As we do our deliveries each morning, we keep an eye on the turtle tracks and look for any signs of nest disturbances or activity. Anything we find we promptly alert the turtle watch teams on Folly. We often educate adults and children about the importance of filling up any holes in the sand and emphasize the importance of not leaving any belongings or trash on the beach. Check out Our Passions to learn more about our efforts. The Folly Beach Chair Company was also part of the team that created marketing campaigns for the banning of single use plastic and styrofoam coolers on Folly! Microplastics are a massive hazard for any and all marine creatures. Our goal is to keep our home safe and clean for all.
Keep up with our sea turtle friends by joining the Folly Beach Turtle Watch Program Facebook Group!