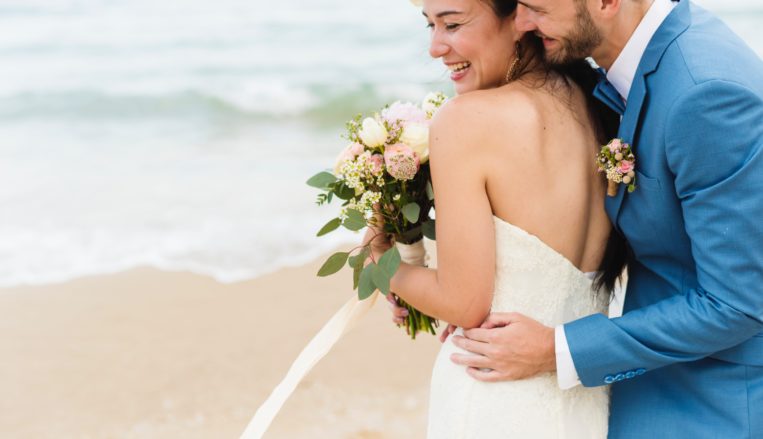 Want to have fun in the sun while you're tying the knot? If so, you'll want to plan your dream beach wedding carefully. Beyond the usual tasks involved in planning a wedding, the beach setting requires you to pay special attention to details that may not even be considered for a more traditional wedding. So, before you get too far ahead finalizing this and that, let's take a closer look at what you need to consider for your big day on the sand.
Weather
Sounds obvious, right? Of course, you're going to check the weather forecast, but there's more to it than knowing whether or not it's going to rain. Mother Nature changes her mind quite often and, should things turn south, you'll want a near-by building you can use as a backup plan. Likewise, if your wedding is taking place in the summer, you should keep close track of the time. As romantic as a starry night can be, the ocean effect means the temperature will drop considerably.
Beach Wedding Attire
Second obvious statement: the beach can get quite hot. That being the case, the traditional wedding garb could make the event memorable for all the wrong reasons. The only thing worse than sweating through your vows is knowing that all of your guests are overheated too. You need to take the setting into account when determining what everyone will wear. You don't have to take the beach wedding attire totally towards the "beach" side of style, but there are alternatives to the usual formal attire that maintain that appearance while still accounting for the heat.
Provide Sunscreen for Everyone
It's a given that you're going to take the sun into consideration when you're drawing up your beach wedding ideas, but don't forget the risks that sun exposure brings. Don't assume that all of your guests are going to remember to bring sunscreen, even if you give them plenty of reminders. Have enough on hand so that you can ensure everyone is covered.
Don't Forget About Bugs
While you're focused on the details of your wedding, don't lose sight of even the smallest potential problems. In this case, we're talking about insects. No one wants to be scratching mosquito bites during the ceremony (or at all, really), so have some bug spray on hand or consider incorporating netting in with your staging. If you're also holding the reception outside, the food could give pests a reason to meddle. If you've hired a caterer make sure they're prepared for what the outdoors can bring.
There's no such thing as being too prepared when it comes to your wedding, regardless of the setting. These considerations are only a few that you should keep in mind if you're planning a wedding on the beach. Get together with everyone involved with making the preparations and brainstorm together so that you'll overlook fewer things. Make sure that everyone is on the same page and understands exactly what you expect once the big day arrives.