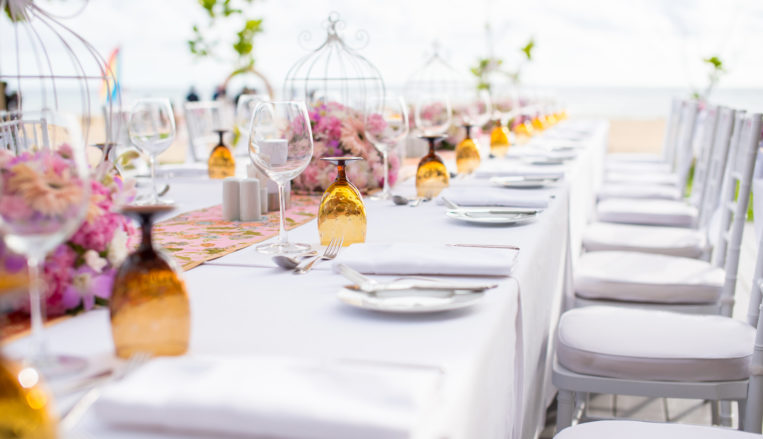 Your wedding day is one of the biggest days of your life and you deserve to have everything go perfectly. That means that everything should be planned in detail. With that said, planning a wedding can be quite a stressful and time-consuming activity, especially if the rehearsals, main ceremony, and reception are taking place in different venues. You will have to travel all over and will likely barely have any time for yourself. But what if you can have your entire wedding occur within the same part of Folly Beach, with minimal traveling required? If you are looking to have your wedding in South Carolina, here are five reasons to have your wedding reception at Folly Beach:
1. Enjoy Warm Weather
If there is one thing we are famous for here in Folly Beach, it's our unseasonably warm weather. Having an indoor wedding reception is only going to end one of two ways – with you shivering in your wedding attire because the weather is too cold or sweating to death in a stuffy venue. Why go through that when you can have a Folly Beach wedding reception in warm weather with the sun smiling down on you and your spouse?
2. The Chance to Take Your Shoes Off
Wedding ceremonies can take a long time, which means you'll be on your feet for a long time and your formal shoes can become uncomfortable. Having your wedding and the reception at the beach will give you an excuse to avoid sore feet altogether. You no longer have to fake a smile until you can take off your high heels. Relax, and let your feet enjoy the warmth of the sand.
3. Great Photo Opportunities
Sunsets at the beach can make for great photos of your wedding reception. Not to mention the beautiful, fun atmosphere and sunset views from the Tiki Lounge at our partner venue, Wiki Wiki Sandbar. The background full of natural scenery, sand, and surf is also amazing. This is how you can make permanent memories of your big day.
4. Endless Decorative Possibilities
Having your wedding and reception at the beach gives you endless creative possibilities when it comes to decor. Why not try sand sculptures instead of ice sculptures? Or tiki torches instead of candles? Take advantage of the bright colors of the beach and let the waves inspire a great color scheme consisting of bold prints and bright florals. Let your imagination run wild. Often the hardest part of decorating is having a foundation, to begin with. Our team will set up your arbor, wedding chairs, and any additional equipment like canopies or coolers to make sure you have everything you need for your perfect day. Whatever beach equipment you need to make it happen, Folly Beach Chair Company's Rentals will be on hand to help you set up.
5. Have a Destination Wedding
Don't live near a beach? Then this is your opportunity to have the destination wedding of your dreams, without breaking the bank. Folly Beach, SC is a warm, sunny, ocean-side venue that is ideal for your big day. Let Folly Beach Chair Company help you plan every little detail from the rehearsal to the reception and make your dream of a destination wedding come true. As the only equipment rental company licensed by the city of Folly Beach to set up rental chairs, you won't have to incur the extra expense of fines or leave your guests standing the whole day. You choose the spot – we do the setup.
Book Your Wedding at Folly Beach
Make the most of your wedding day at Folly Beach! Our partnership with Folly's best wedding venue, Wiki Wiki Sandbar, makes planning your rehearsal, ceremony, and reception a breeze. You and your wedding guests will always remember the beauty, fun, and luxury of your oceanside wedding. All you have left to do is contact us today at Folly Beach Chair Company.